RAF Museum to help create Dambusters centre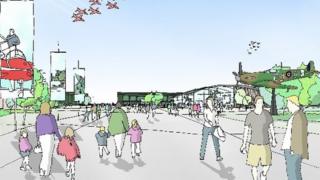 The RAF Museum has agreed to help create a heritage centre at the former home of the Dambusters.
Lincolnshire County Council wants to turn RAF Scampton into a world-class tourist destination.
The airbase, in Lincolnshire, is currently home to the RAF's Red Arrows aerobatic display team.
The heritage centre will tell the story of aviation, and the council said drawing on the museum's experience and collections would be of great benefit.
Councillor Colin Davie, executive member for economic development, said: "There are so many iconic stories associated with the base, like those of the Dambusters and the Red Arrows, that a visitor attraction is bound to appeal to people from all over the globe.
"Aviation heritage is already a big pull for the county, with 120,000 people visiting our many existing attractions last year. Scampton would act as a beacon bringing in thousands more."
Under the agreement, the museum and council will also work together to create a series of national exhibitions, looking at the role of aviation in World War One and the centenary of the founding of the RAF.
The county council is leading the project but said no decisions had yet been made about how the centre will be funded.
The long-term aim is for a permanent attraction featuring the stories of the Dambusters, the Red Arrows and telling the story of the Cold War.
Peter Dye, director general of the Royal Air Force Museum, said: "Lincolnshire is a county steeped in aviation history and with a long association with the Royal Air Force. The RAF Museum is keen to support initiatives that highlight Great Britain's unique aviation heritage."
The RAF now has six operational stations in the county, but during World War Two there are thought to have been more than 100 military airfields, including dummy airfields and emergency landing strips.