Lancaster bombers to fly together on UK summer tour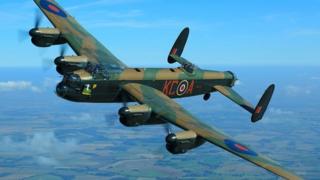 The only two Lancaster bombers still flying will come together later this year as a "special salute" to all the veterans of Bomber Command.
The Battle of Britain Memorial Flight, based in Lincolnshire, and home to PA 474, will host the Lancaster from the Canadian Warplane Heritage Museum.
The two aircraft will take part in a series of events during August.
The Canadian Lancaster will also conduct a limited number of flights from Humberside Airport.
The Avro Lancaster is one of World War Two's most-recognisable British aircraft.
'Once in a lifetime'
It is most famous as the aircraft involved in the Dambuster raids, which saw 19 Lancasters attack German dams with Sir Barnes Wallis's "bouncing bombs" in 1943.
A total of 55,573 airmen of Bomber Command died in WWII. Their average age was 22.
RAF Coningsby's Sqn Ldr Dunc Mason said: "To see these two aircraft flying at events together will be a unique sight and also an opportunity to truly commemorate those who paid the ultimate sacrifice."
The Canadian Lancaster will arrive in England on 8 August after stopping en-route in Greenland and Iceland.
Sqn Ldr (Ret) David G. Rohrer, of the Canadian Warplane Heritage Museum, said: "It's been something that has been in the back of our minds for many years and we always thought it would be very special to have the only two flying Lancaster bombers coming together."
He added: "To see these two airplanes with fighter escorts flying over the English countryside will be a once-in-a-lifetime opportunity."