Skegness wave sculpture reopens after 2012 bike crash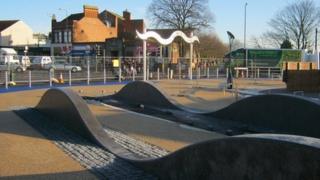 Artwork outside Skegness station which was cordoned off two years ago when a boy was injured riding over it on his bike is back on display.
The wave design had been due to reopen in November as part of a £720,000 plaza outside the railway station.
But problems with studs designed to stop it being used as a "playground" led to further delays.
It has now been covered in metal starfish and shell studs to prevent people riding or skating on it.
'First impression'
Councillor Colin Davie, executive member for highways at Lincolnshire County Council, said: "I'm very pleased that the changes we needed to make to the sculpture are now complete."
He added: "First impressions count, and I believe this piece of art will make the visitor experience for people coming via train much more impressive and memorable."
However, John Byford, from East Lindsey District Council, questioned why it had taken so long for the work to be done.
He said: "Tens of thousands of people still arrived by train to Skegness and that first impression counts.
"We have to have it right for them and it's not been right for nearly two years."
Mr Davie conceded "this should have been sorted out a long time ago - but I'm pleased we've now got a solution".