PCC Alan Hardwick apologises to chief constable over suspension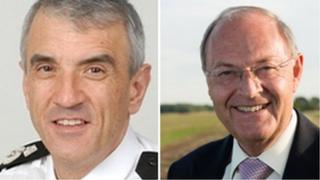 Lincolnshire's police and crime commissioner (PCC) Alan Hardwick has apologised over the way he dealt with allegations against his police chief.
Temporary chief constable Neil Rhodes was suspended by him last February over an employment dispute.
But a judicial review found in favour of Mr Rhodes and he has since been given the job permanently.
The police and crime panel, which oversees the work of the PCC, made the request to Mr Hardwick.
In a letter posted on his website following a private meeting with the chief constable, Mr Hardwick wrote: "As we have both said publically for many months now, we have drawn a line under the difficulties of 2013, and successfully so.
"Together, we have achieved much against, and despite, the backdrop of media scrutiny, speculation and in some cases inaccurate reporting."
It continued: "I also want to express how sorry I am that you and your family ultimately endured an experience and anxiety which were never my intention.
"My apology is sincere and unreserved."
A second letter to the crime panel read: "I have always sought to do the right thing as I go about discharging every aspect of my duties.
"I am very happy to apologise to anyone who feels an apology is deserved and I have apologised to the chief constable for the impact the issues of 2013 have had on him and his family."
A statement from the police and crime panel said: "The panel is pleased the commissioner has apologised to the chief constable and acknowledges that the commissioner has offered an apology to anyone who feels an apology is deserved.
"However, the panel still expects to see an apology given to the people of Lincolnshire as per its formal request."
The apology follows a report by a special task group commissioned by the crime panel, which details a series of recommendations to Mr Hardwick, the Home Office, the Independent Police Complaints Commission, the chief constable and the Association of Chief Police Officers.
Chris Cook, chairman of the task group, had earlier said the judicial review "could have been avoided" if Mr Hardwick had not been so quick to suspend Mr Rhodes.
"It has cost a lot of money," he said. "In all, around our costs we've reviewed, we think there's about £160,000 worth of costs."
Norman Norris, chair of the crime panel, added: "One of the main reasons for our decision to seek an apology is the feedback received from members of the public who were overwhelmingly critical of the commissioner."
A report by Greater Manchester's Chief Constable Sir Peter Fahy concluded there was no evidence Mr Rhodes had acted improperly.