Self-confessed Lincoln paedophile jailed for six years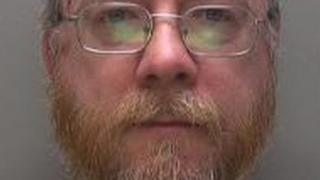 A self-confessed paedophile who sent letters to the Pope arguing for child sex to be legalised has been jailed for six years for downloading child pornography.
Andrew Bowen, 50, of Bawtry Close, Lincoln, told the city's Crown Court he did not believe his actions were criminal.
Police found 24,000 images of child pornography on his computer.
He was sentenced in his absence when he refused to leave his cell.
Child sex
Det Cons Nicole Linn, of Lincolnshire Police's internet child abuse team, said Bowen had also written letters to Prime Minister David Cameron, United Nations General Secretary Ban Ki-moon and Justice Minister Chris Grayling advocating "freedom of choice for children to have sexual relationships".
A police spokesman said Bowen even returned to Lincoln Police Station when he was on bail with a laptop computer containing indecent images of children.
He was arrested again on Lincoln High Street and was found to have another laptop with indecent images on it.
Bowen was convicted of 23 charges relating to making indecent images of children, possession of indecent images and possessing images for distribution.
Judge Sean Morris said: "I think he's dangerous. There is a significant risk that he will cause serious harm to children.
"He is devious, he is intelligent and I am worried for his sanity."