Builder Rodney Foyster sentenced over unsafe scaffolding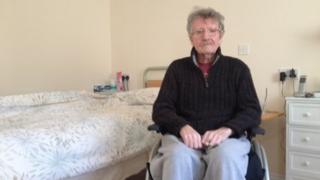 A builder who erected unsafe scaffolding from which a bricklayer fell, resulting in him being paralysed, has been given a suspended prison sentence.
Rodney Foyster had not been trained to erect the scaffolding and he put it up using instructions from the internet.
Bricklayer Robert Wilkin, 70, fell off what the Health and Safety Executive described as a "makeshift bridge".
Foyster, 56, of Mons Road in Lincoln, admitted breaching safety regulations.
Mr Wilkin broke his back in two places after falling 10ft (3m).
'Fell on head'
He is paralysed from the waist down and will have to use a wheelchair for the rest of his life.
HSE inspector Martin Waring said the scaffolding was "perhaps one of the worst that I have seen".
He said: "I think his injuries were exacerbated because he fell on his head and it was a concrete floor.
"As soon as I arrived on site you could tell that the scaffold was poor and if people were working on that scaffold it was definitely an accident waiting to happen."
Mr Wilkin said he was left in "a lot of pain" after having an operation to fuse his spine together.
He can no longer go walking, gardening or collect antiques, which were his hobbies.
"I feel my freedom has been taken from me and it's been really hard on my family," he said.
Foyster was given a four-month prison sentence, suspended for 18 months, at Lincoln Magistrates' Court.
He was also ordered to carry out 200 hours of unpaid community work and ordered to pay £2,941 in legal costs.