Lynx cats arrive at Lincolnshire wildlife park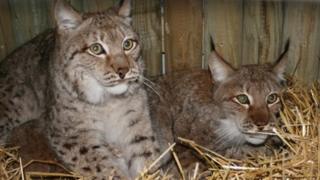 Two lynx cats have been brought over to England in the hope they can be used to breed and increase the genetic diversity of those kept in captivity.
Issabelle and Linus are the only captive lynx lynx wardi in the UK, and two of only five in the rest of Europe.
They are brother and sister, so two further lynx will need to be brought over to breed with them.
They are settling in at a wildlife park in Lincolnshire after arriving from a German zoo late on Wednesday.
Neil Mumby, director of Woodside Wildlife and Falconry Park, said: "The five in Europe are all related, and that leaves a little bit of a problem.
"We are working with the Russians to try and bring over another young pair of unrelated cats, so we can keep a pair and send a pair to somewhere else to try and breed pairs."
Issabelle and Linus were sedated and transported by road from Wuppertal Zoo in Germany.
As they are brother and sister, Issabelle has had a contraceptive implant inserted to stop her breeding.
"They live together quite happily," said Mr Mumby.
"They are only 18 months old so they are quite young.
"They have a very, very thick winter coat, which is what they have got on at the moment, and in spring they will moult."
The subspecies is localised to the Altai Mountains, on the border of Russia, China, Mongolia and Kazakhstan.
"Most zoo animals have been in captivity for quite a few generations, so it's not something we are taking from the wild now," said Mr Mumby.
"They've got some in Russian zoos but it would be quite nice to bring some over here to spread the gene pool a bit further, so we've got a good captive source of these animals."