Lincolnshire M11 extension will 'stay in dreamland'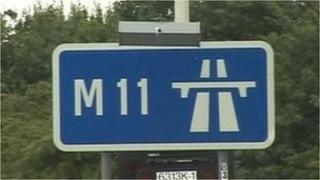 The president of the AA believes it is "very unlikely" that the M11 motorway will be extended through Lincolnshire.
The county currently has no motorways and business leaders say extending the M11 would boost the local economy.
Boston and Skegness MP Mark Simmonds has also written to the transport minister Stephen Hammond, passing on correspondence from a constituent.
A Department for Transport spokesperson said: "The government has made no commitment to extend the M11."
Edmund King, president of the AA, said: "I actually think it is very unlikely.
"I think what you will find is some improvement to the current routes but certainly from discussions I've had around the Highways Agency and the Department for Transport I think, I'm afraid, it will stay there in dreamland."
The M11 currently goes from the A406 in north east London to the A14, north west of Cambridge.
In the past, Lincolnshire County Council has pushed for the M11 to be extended through the county and up to the Humber Bridge.
Cheaper solution
But Councillor Richard Davies, the council's portfolio holder for highways and transport, said money should be spent on maintaining Lincolnshire's existing roads instead.
"I'd dual the full length of the A15, A16 and A17 straight away, and make sure that maintenance of our existing road network is also properly funded," he said.
"I think this would bring many of the benefits that have been mooted about the M11 scheme, for a fraction of the price."
Shaun McGarry, from Lincolnshire Chamber of Commerce, said extending the M11 into Lincolnshire would be "great if it happens" and would help farmers and food producers to transport their products.
"When you look at the issues that businesses in Lincolnshire face, the speed limits on the roads that we currently have are getting lower and lower as time goes by," said Mr McGarry.
"So the time to get our products out to market takes longer and longer, and that costs money, so one of the things that does is impact the cost of food for the entire nation."