New Red Arrows tailfin design for 50th display season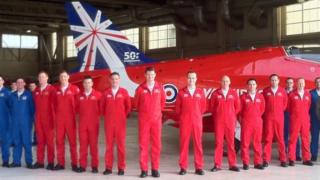 A new tailfin design for the Red Arrows jets has been unveiled to mark the team's 50th display season.
The first jet featuring the new design was revealed at RAF Scampton in Lincolnshire, where the aerobatic display team is based.
The RAF said the makeover was the "most significant change" to the look of the team's aircraft in its history.
The red and white fuselage of the aircraft has not been changed as this would have been "too costly".
The tailfin features a Union flag and has been designed to reflect the "best of British", emphasising the team's role as "ambassadors for the United Kingdom" and the public face of the RAF.
Sqn Ldr Jim Turner, known as Red 1, had input into the design and revealed the tailfin at the ceremony.
He said: "I wanted a design created that reflected the very British soul of the Red Arrows while keeping it simple and achievable in terms of both time and cost.
"Repainting the entire aircraft would have taken too long and been too costly and I think the balance has been struck perfectly."
The new tailfin was designed by the Air Media Centre at RAF High Wycombe.
It features outlines of Gnat jets, the original aircraft used by the team, and Hawks, which the team switched to for the 1980 season.
Flt Lt Oliver Parr, known as Red 4, said the tailfin design was "pretty cool", and said he had heard rumours about surprises planned for the 50th display season.
"There are plans afoot but unfortunately they don't tell us lowly pilots what they are going to be," he said.
The 2014 display season is from the end of May to the end of September, and the team has 85 displays planned in nine different countries.