Tallington villagers call for level crossing bypass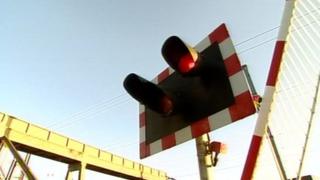 Villagers have started an online petition calling for a relief road to be built around a level crossing in Lincolnshire.
Ken Otter, who lives in Tallington, said the crossing in the village was down for about 45 minutes each hour.
He said in the past few days emergency paramedic vehicles had been stopped several times.
Network Rail said it was working with Lincolnshire County Council to address the issues around the crossing.
Mr Otter said: "Traffic just backs up for many, many miles. The worst thing is when the ambulances or the fire brigade come and the police - they queue up down the sides."
He has called for the county council to put forward funds for a relief road.
"They have only got to put in the money that they promised originally - £5m - they can do that out of reserves and get this bypass.
"We've only been waiting since 1954," Mr Otter said.
'Seize initiative'
He has now started an e-petition on the authority's website, which has so far been signed by more than 600 people.
On the e-petition Steve Hanson said: "Absolute nightmare, often sat there when no trains are coming. Longest delay 15 mins."
Councillor Richard Davies, executive member for Highways and Transportation, said the authority was working on the issue but Network Rail should lead the proposals.
"It really is down to Network Rail to seize the initiative and actually take responsibility for their rail network.
"After all it is them that are causing the problem because they are closing the level crossing more, they have to take some responsibility for this," he said.
A Network Rail spokesman said "work to develop a suitable proposal for the crossing continues".
He said a feasibility study was under way to see what could be done to the road and the public would be informed when a suitable proposal is found.