Thurlby A15 schoolgirls crash road speed limit cut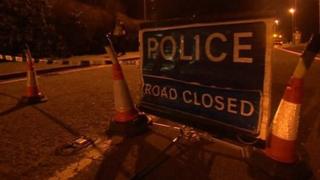 The speed limit on part of a Lincolnshire road where two 11-year-old girls were seriously hurt when they were hit by minibus has been reduced.
Signs have been put up on the A15 at Thurlby, near Bourne, cutting the speed limit from 60mph to 40mph.
The girls, both 11 and pupils at Bourne Academy, sustained fractures and head injuries in the crash last month.
The speed reduction, which was approved last December, comes after six years of campaigning by villagers.
Barry Dobson, who led the campaign, said the speed reduction would "slow the road down and give additional safety to pedestrians".
"It will now also enable us to get crossings... we definitely need crossings at both intersections at Thurlby," he said.
Crossings reconsidered
More than 6,000 people have signed a petition calling for the two crossings to be put in place and a meeting will be held later to discuss the request.
Mr Dobson, the chairman of Thurlby parish council, added that the "main purpose" of the meeting would be to "really try and force the issue" to the county council to have pedestrian crossings installed.
Lincolnshire County Council said in the past the road was not eligible to have a crossing, but it would now reconsider.
Brian Thompson, head of highways at the authority, said: "We've put up a number of measures, we've put up a sign that flashes the vehicles speed, we've improved the road surfaces and the speed limit has been reduced."
He said the next step would be to judge if a pedestrian crossing would make a difference and if the money would be better spent there than other places.