Boston floods: Community group to buy washers and fridges for victims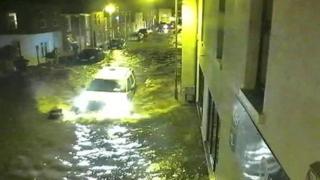 A community group set up in the wake of Boston's floods has said it will use £10,000 of donated money to buy fridges, washing machines and cookers for affected homes.
A total of 569 properties were flooded in the town after the River Haven burst its banks in December.
Get Boston Back On Its Feet spokesman Mark Douglass said the scheme would help those most at risk.
The group previously organised a Christmas party for flood victims.
The party saw the group give out about 600 donated presents.
Mr Douglass said there were plans for further fundraising events, including a summer concert in July.
Anyone affected by the flooding in Boston can apply for assistance from the group online or by visiting the district council offices in West Street.