Lincolnshire councillors 'should reject pay increase'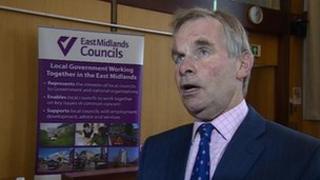 A senior councillor has said his colleagues should not be allowed to give themselves an allowance increase of almost £2,000.
Lincolnshire county councillors are to vote on whether their basic allowance should rise from £8,184 to £10,100.
Labour group leader John Hough said they should vote against the rise.
The council's leader, Conservative Martin Hill, said individual councillors should be able to choose whether to be paid more or not.
However, Mr Hill said he would not take an increase in his leader's allowance.
The Independent Remuneration Panel had recommended that his leader's allowance rise from £20,448 to £32,000.
Mr Hill said: "I think it's very much a personal choice and I don't think it should be up to me or anybody else to tell other councillors.
"We all have different personal circumstances and I believe it should be a matter for individual choice."
In 2012/13, Mr Hill received a total of £33,800, claiming his full basic allowance, full leader's allowance, and £5,168 in travel and subsistence.
'Financial crisis'
Mr Hough got £13,083, comprising his full basic allowance, £2,730 special responsibility allowance, and £2,169 in travel and subsistence.
He said councillors should refuse more money at a time when the council's executive has "refused to pay a living wage to all its employees" and "we've got over 100 staff being sacked from the libraries".
He said: "In the real world people don't have the luxury of being able to choose whether or not they have a 56% increase in their pay, or 23% increase, or whatever.
"The council should reject the proposals, there should be no increase at this stage, because of the financial crisis we are facing due to the government cuts."
In response, Mr Hill said they needed "ordinary people" to become councillors, and keeping the allowance low would restrict the number of people who choose to serve on councils.
The council will consider the changes to allowances at a meeting on 21 February.