Lincolnshire group challenges council's library change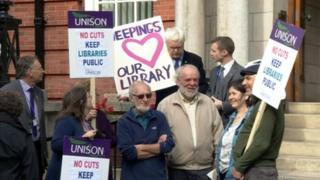 A campaign group is going to the High Court to challenge a move by Lincolnshire County Council to change its library system.
Save Lincolnshire Libraries has asked the High Court to grant a judicial review to stop the library cuts.
Lincolnshire County Council wants to hand control of about 30 county libraries to volunteers.
The protest group argues the county council did not carry out a proper consultation.
The county council has estimated it can save £2m a year by the move.
'Lawful decision'
County councillor Nick Worth said: "Before the decision was made, the council carried out extensive consultation and thoroughly considered the impact on our residents.
"We will be presenting the strongest possible defence, showing that all the necessary steps needed to make a lawful decision were taken."
Solicitor Paul Heron, who is representing Save Lincolnshire Libraries, said: "Most people understand that in an age of austerity that savings have to be made, but … the council has ignored the way that libraries play an education role … and importantly play a community role, especially in rural areas.
"The council had already made up its mind - and the consultation itself was a paper exercise to justify the cuts."
The consultation over the proposed closures ended in September, with the county council stating the library service needed to change to remain affordable.