Red Arrows inquiry highlights 'we're different' culture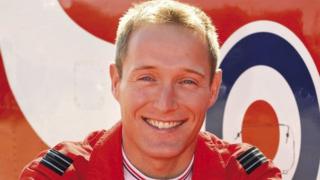 A government inquiry into the death of a Red Arrows pilot has raised concerns the team did not follow the same safety procedures as the rest of the RAF.
Flt Lt Sean Cunningham was killed at RAF Scampton, Lincolnshire, after being accidentally ejected from his Hawk T1.
In January, the RAF and the seat manufacturer were criticised at an inquest into his death.
The MoD report into the death identified a "we're different and we do it our way" elitism in the team.
'Do it our way'
It said separate inquiries into three serious accidents involving the Red Arrows - the Crete mid-air collision in 2010, the death of Flt Lt Jon Egging in Bournemouth and Flt Lt Cunningham's death - identified several common themes.
These were highlighted as standards, risk management and supervision.
Flt Lt Cunningham, 35, who was born in South Africa and grew up in Coventry, died on 8 November 2011.
The report into his death also indentified 17 contributory factors to the accident, including pilot distraction and the lack of robust internal and external inspections of the team.
Other areas of concern included pilots falsely claiming to have completed specific training during sorties and the practice of sharing simulator slots and inaccurate logging.
Procedural drift - the gap between how a system is designed and how it is actually implemented over time - was another area of concern recurring throughout the report.
Speaking about the findings, retired Air Vice Marshal Jerry Connelly, said: "This isn't something that has crept in over the past couple of years - I suspect it goes much further back in time - and whatever the structure of the air force there has been a chain of command at the top, monitoring and allowing the team to actually perform."
He added: "I cannot believe this has all come as a big shock to them and its hard to understand why they were not doing something more active to change that drift."
At the inquest at Lincoln Coroner's Court, coroner Stuart Fisher recorded a narrative verdict.