St Margaret's Church spire to be removed as 'an emergency'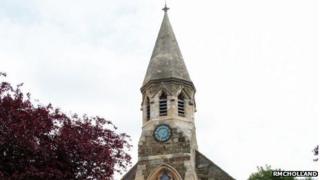 An unstable spire is to be removed from a church as "an emergency" as part of community efforts to save the building.
Residents in Thimbleby, Lincolnshire have been trying to raise £120,000 to restore St Margaret's Church and its spire for 18 months.
The Grade II listed church, which was built in 1879, has been closed since 2010 for safety reasons.
The Reverend John Parkin said if the spire was not carefully removed, it could collapse and destroy the church.
Church warden Jan Goulbourn said the spire would be removed by hand and parts will be recorded and stored for possible future use in any future restoration.
He added that since the appeal was launched, the local community had "really come together like never before".
"It took the word closure for everyone to spring into action."
Since closure, villagers have held their church services at the local village hall.