Safety concerns remain after Lincolnshire rail death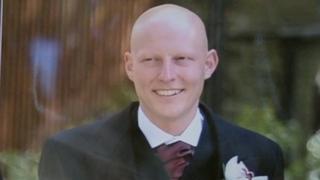 Rail staff are scared they will lose their jobs if they speak out about safety, a BBC investigation has found following the death of a worker who was hit by a train on the track.
Scott Dobson, 26, died near Saxilby, Lincolnshire, in December 2012.
Speaking to Inside Out, a man employed by Network Rail through an agency said: "Because you speak up, that agency can't put you out and if you are part of a gang the whole gang loses work."
Network Rail said it had made changes.
It said that new procedures were being introduced following the death of Mr Dobson, who was from Doncaster.
A report into his death by the Rail Accident Investigation Branch (RAIB) highlighted a string of failures.
'Culture of openness'
It found a safety assessment had not been carried out on the day of the accident and said that Mr Dobson, who was hired through an agency to supervise site safety, had been standing in an unsafe position and "became distracted" as the train approached.
Speaking to BBC's Inside Out, the anonymous agency worker said: "Some people stay quiet because they are scared of losing work.
"I lost work with for nearly a year because I wouldn't do work because it wasn't safe."
Mick Cash from the RMT union believes using casual staff compromises safety.
"Saxilby is a sad reminder of how dangerous the railway is," he said.
"This accident could have been avoided and the root cause is Network Rail's high usage of contractors."
Gareth Llewellyn, from Network Rail, said safety supervisors would no longer be employed through agencies.
He added: "We need to make sure this is the last fatality that happens on the railway and we will make any changes necessary to ensure that."
In a statement, contractors Carillion said a programme already existed for staff to report unsafe conditions and the firm "placed great importance" on "creating a culture of openness".
"We go to great lengths to ensure our workforce know they can raise any concerns they have about safety and these will be acted upon.
"We recognise some people may be concerned that if they speak up they may be penalised, but we make every effort to highlight this is not the case."
Inside Out Yorkshire and Lincolnshire is broadcast on Monday, 3 February at 19:30 GMT on BBC One. It is available thereafter on the iPlayer.