Ivans Zdanovics' murder in Gainsborough 'devastates' family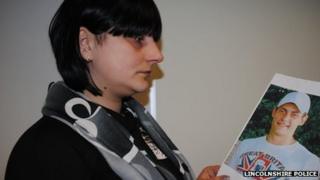 The murder of a Latvian man has had a "devastating impact" on his family, his sister has said.
Ivans Zdanovics was found dead at his home in Etherington Street, Gainsborough, on 17 January after a fire.
Lincolnshire police flew his sister Oksana Zdanovica-Rjabisenkova from Latvia to help with their inquiries.
Officers are trying to build a picture of his movements between the evening of 16 January and the following morning.
Mrs Zdanovica-Rjabisenkova urged anyone who thinks they can help to contact police.
"Whoever has done this has taken our loved one away from us. This has had a devastating and shocking effect on us," she said.
"This could potentially happen to any family and I would ask people to think about that. These people do not deserve loyalty or protection."
She said her brother was an "intelligent man" who was "hard-working, caring and kind" and "generous to a fault".
"He was always there for his friends and family," she added.
After leaving his home city of Liepaja, Mr Zdanovics spent time in Germany, before moving to the UK three years ago.
Det Supt Stuart Morrison said: "I am keen to build up a picture of the lifestyle and movements of Mr Zdanovics.
"We are particularly interested in the period between 19:00 GMT on Thursday 16 January and 11 the following morning."