Killer Paul Smith's appeal rejected in Rosie May murder case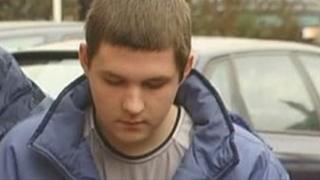 A man who killed a 10-year-old girl at a Christmas party in 2003 has lost an appeal against his conviction and sentence.
Paul Smith, who was 17 at the time of the murder, suffocated Rosie May Storrie at a party in Leicestershire.
Rosie May, from Bottesford in Leicestershire, died in hospital two days later.
The Court of Appeal refused to grant his appeal and an application for leave to appeal against his 14-year sentence.
Rosie May's mother Mary said: "I have never had any doubt that Paul Smith was responsible for Rosie May's death."
The court judgment said it was "unrealistic to expect that any jury would regard the killing of Rosie-May as possibly being an accident".
Smith's uncle, Ian Smith, also welcomed the Appeal Court judgement, saying: "One unexplained and tragic act has changed life for so many.
"The ripples of Rosie May's untimely loss have been felt continually, particularly because of the failure of Paul Smith's immediate family to accept the unanimous verdict.
"We welcome the appeal court judgement."
Paul Smith's father Nigel said: "It is an immense disappointment - we thought we had a real good case.
"We will see where we go from here … this is certainly not ended. This is a huge miscarriage of justice and I will continue to fight it.
"I will not stop looking for justice for my son."
Rosie May's parents opened a Sri Lankan orphanage in her memory in 2009, calling it "her living legacy".