'Youngest' Atlantic Ocean rowers near finish line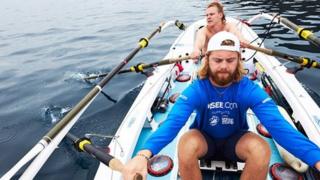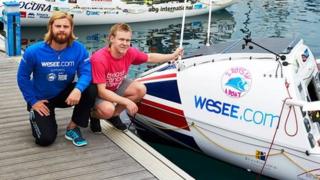 Two 21-year-olds hoping to become the youngest pair to row across the Atlantic Ocean are close to crossing the finish line in the Caribbean.
Luke Birch, of Doddington near Lincoln, and Jamie Sparks, from Islington, north London, are taking part in the 3,000-mile Atlantic Challenge race.
They set off from the Canary Islands on 3 December and should arrive in Antigua in the next few days.
The two friends are on target to finish fifth overall and second in the pairs.
Two Boys in a Boat were one of 17 teams to start the challenge in La Gomera.
After rowing up to 12 hours a day Mr Birch told BBC Radio Lincolnshire they were uncomfortable but had their "eyes on the finish".
'World's toughest'
He said: "The days have all just blurred into one.
"I haven't walked since 3 December, I haven't sat down with my knees below my hips and I haven't eaten a meal with a knife and fork.
"It is uncomfortable a lot of the time but being so close to the finish we don't really care."
The pair have so far raised more than £185,000 for Breast Cancer Care - well above their £150,000 target.
The Talisker Whisky Atlantic Challenge is billed as the world's toughest rowing race.
During the event, no outside support is allowed and no extra supplies such as food and water are given to the teams.