Mystery donor secures WW2 Bomber Command memorial spire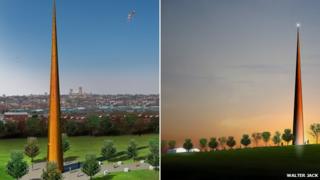 An anonymous donor has contributed more than £750,000 to the Lincolnshire Bomber Command Memorial Trust, securing the construction of the Spire of Names.
The trust was set up last May to raise £5m for a project including a 50m (164ft) steel spire on Canwick Hill, facing Lincoln Cathedral.
It will list the names of the 25,611 airmen killed while based in Lincolnshire in World War Two.
Nicky Barr from the trust said they could not be "more over the moon".
"The donation came via a phone call to the chairman of the trust, Lord Lieutenant Tony Worth," said Ms Barr.
"The donor has strong Lincolnshire connections and believes that Bomber Command's achievements are something really important for the whole county."
It means the steel spire is fully-funded but about £3m still needs to be raised for the visitor centre and memorial garden.
Ms Barr added a number of fundraising events were planned for 2014 and the Trust had approached a number of international organisations.
The project is also being supported by the Imperial War Museum, University of Lincoln and a number of squadron associations.
Future plans will include adding details to the database of all 125,000 airmen, ground crew and support staff who were part of Bomber Command.
In June 2012, a £6m memorial to all the 55,573 airmen of Bomber Command who died during World War II was unveiled by the Queen in London but this is the first dedicated to those based in Lincolnshire.
The memorial was the idea of the Lord Lieutenant Tony Worth, whose father served with the RAF through most of the war.
A site facing Lincoln Cathedral was chosen as the location because the building was used by many pilots and navigators as a beacon to let them know they had returned home safely.