Sean Cunningham inquest: RAF unaware of ejection seat safety concern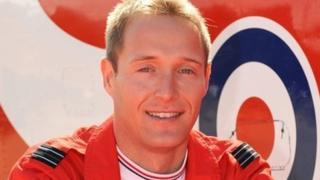 An ejection seat manufacturer failed to warn the RAF of a safety issue with a seat that killed a Red Arrows pilot, an inquest has heard.
Flt Lt Sean Cunningham died after he was ejected from his stationary aircraft at RAF Scampton, on 8 November 2011.
He was thrown up to 300ft into the air and fell rapidly when his main parachute did not deploy.
The 35-year-old, who grew up in Coventry, died from multiple injuries.
The inquest into his death heard evidence that over-tightening a nut and bolt in the mechanism of the Martin Baker-built ejection seat could cause the parachute not to deploy properly.
The firm warned some air forces in other countries about this potential problem as far back as 1990 but did not inform the RAF, the inquest was told.
After Flt Lt Cunningham's death, the bolt was found to be bent.
Retired Martin Baker employee Neil Mackie, who worked in the quality assurance department, suggested that it was bent because it had been "vastly over-tightened".
"To distort [that] bolt would have required considerable torque loading," he said.
The company has since developed a new shouldered, or sleeved bolt, which cannot be over-tightened.
The inquest also heard from Michael Cameron, who was a chief technical instructor at the company between 1999 and 2008, and is now an after-sales executive.
He told the inquest the seat went to 17 different countries around the world.
Tom Kark QC, representing the pilot's family, asked him about the problems that had come to light since Flt Lt Cunningham's accident and asked him: "Did Martin Baker know about this specific problem 20 years ago?"
Mr Cameron replied: "From documents I've seen, yes, Martin Baker did."
He was also asked if the information should have been passed to customers as a matter of urgency?
"Yes," he replied, "but I don't know what happened at that time".
The inquest at Lincoln Cathedral Centre is expected to last until the end of January.