Skegness wave sculpture still closed after 2012 bike crash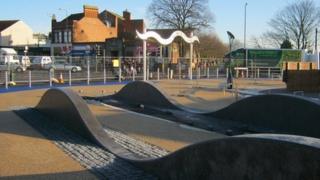 A sculpture outside Skegness rail station is still closed two years after a boy on a bike was injured riding over it.
The wave design artwork was due to reopen in November as part of a £720,000 scheme to create a plaza outside the station.
But problems with studs designed to stop it being used as a "playground" have led to further delays.
Lincolnshire County Council said it was "very frustrating".
Chris Briggs, from the authority, said: "We ordered some metal starfish and shell studs to prevent people riding and skating on it.
"However, we've been unfortunate in that the materials have not turned out as good as we would have liked - so we've had to return them."
He apologised for the delay but added: "It is unfortunate that we've got to take action for the extreme behaviour of others.
"I'm certainly not a health and safety freak wanting a namby pamby state but when people then abuse it and threaten to take you to court you've got to take action."
Work is now expected to be finished within the next two weeks.