Lincolnshire PCC attacks government budget cuts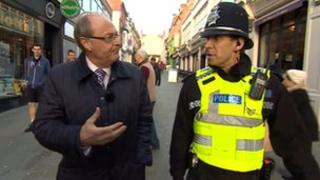 A police and crime commissioner has hit out at the government for "picking people's pockets" amid more cash cuts.
Lincolnshire PCC Alan Hardwick says the Home Office has taken an extra £1m from police funding, which could mean having to increase the force's share of council tax by 2%.
In 2010, Lincolnshire Police was given the task of saving £20m in five years.
Mr Hardwick said steps had been taken to make savings but there was still a considerable amount of work to do.
Mr Hardwick said: "National initiatives are being prioritised over local policing needs.
"The government has top-sliced the police grant nationally to the tune of £80m to prop-up Her Majesty's Inspectorate of Constabulary and the failing Independent Police Complaints Commission.
"They are picking the pockets of the people of Lincolnshire, and other counties, by giving us money by one hand and then taking millions of pounds back on the other hand."
'At breaking point'
In 2012, Lincolnshire Police outsourced call handling and custody suite operations to G4S which helped save £5m that year. The move aims to save £36m over 10 years.
Mr Hardwick said he had ruled out cutting jobs and so the policing element of the council tax would have to increase to help fund officers.
In a statement ,the Home Office said Lincolnshire Police would benefit from almost £500,000 to improve IT services and establish a Forensics Centre of Excellence.
It continued: "It is for chief constables to take all appropriate action against crime in their areas and for police and crime commissioners to ensure police are delivering on the issues that matter to local people."
A public consultation has opened to get people's views on the force's future savings.
Jon Hassall, chairman of the Lincolnshire Police Federation, said: "It is regrettable local people are being asked to pay more for services but it is because of what the government has done to policing."
He agreed the number of officers could not be reduced further as the force was already at "breaking point" and could not provide a good service if more jobs were cut.