Festival celebrating Sir Isaac Newton gets cash boost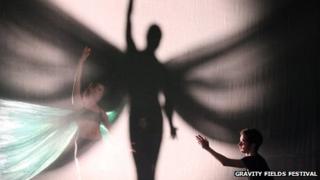 The second science festival celebrating the life of Sir Isaac Newton has received a £89,200 grant from the Arts Council England.
The Gravity Fields Festival in Newton's birthplace of Grantham, Lincolnshire, will focus on large scale outdoor performance events.
Organisers South Kesteven District Council said it could now put on "a seriously good show".
The Giants of Science event takes place from 24-28 September.
Festival director Rosemary Richards said: "We have exciting plans for laser mazes, sophisticated animated costume dancers, LED hoops, giant puppets and mirrored costumes."
Councillor Bob Adams, from the district council, said: "We want to continue to celebrate the achievements and thinking of a man described as one of the world's greatest scientists and this Arts Council funding will allow us to put on a seriously good show come September."
The finale to the first festival was attended by around 12,000 people.
Councillor Frances Cartwright said: "The Gravity Fields event in 2012 proved to be a huge success and showed that there is an appetite and fascination for all things related to Newton."