Lincolnshire County Council using taxis for 160m journey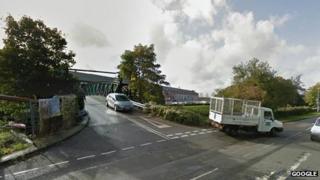 Lincolnshire County Council has defended its policy of using taxis to transport staff about 160m (524ft) to a customer services centre in Lincoln.
The Conservative-led authority said it took action after concerns were raised by staff walking to Witham Park House from Spa Road during the winter months.
The council, which has spent £42,000 on the service over six years, said it had a duty of care to its workers.
The Taxpayers' Alliance said a cost effective solution should be found.
'Call the police'
Zoe Butler, head of the centre, said: "We have a lot of female staff and they've raised concerns about their personal safety walking home at night.
"We've looked at various options how we can make it safer and this was the most cost effective way of getting staff to and from work.
"We have had incidents where we have had to call the police," she said.
The authority is looking at how the road could be made safer in order to remove the need for the taxis.
It has spent £42,000 in the last six years transporting staff 160.9m (524ft).
Robert Oxley, campaign director for the Taxpayers' Alliance, said: "It seems an utterly absurd waste of taxpayers' money to provide cabs for a hundred metre journey.
"Employers should encourage staff to take responsibility for their safety.
"It's difficult to imagine that any other employer not funded by taxpayers would think cabs are an appropriate solution to such a short distance."
Office move
John Hough, Labour-group leader at the authority, said: "I don't want to put staff into any danger and clearly any employer, private or public, owes a duty of care to its employees.
"However, spending £42,000 on taxis for staff to get to work is difficult to justify when there are many cases in Lincolnshire where the council has refused to pay for transport for children to get to school, or college."
He added: "The council should never have got itself into this position. If staff cannot get safely into work the council should not be using these offices."
One of the concerns raised by staff was the lack of street lighting along the route, something which the council is looking at reducing - or turning off altogether - in other parts of the county in a bid to reduce spending.
Councillor Richard Davies said the authority was looking at turning off, or dimming non-essential lamps between 01:00 and 06:00.
He said: "It's incumbent on us to find savings where we can."
The authority is looking to save £27m in 2013-14 and £39m in 2014-15.