Boston Stump: Church 'still drying out' after December flood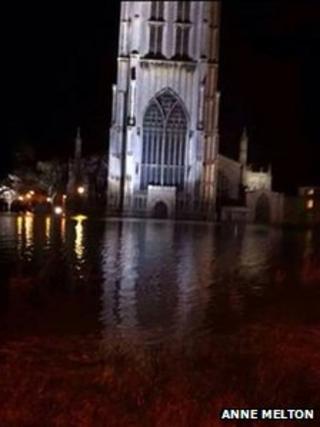 Some parts of a church in Lincolnshire hit by flooding last month are still drying out, a church spokesman said.
St Botolph's Church in Boston was inundated in flooding during a tidal surge on 5 December, but has since reopened to the public.
The cafe and shop at the church, known as the Boston Stump, remain closed.
Specialist cleaners have finished their work, but structural engineers have just started, church development director Peter Coleman said.
The church was flooded with more than a foot of water when the River Haven burst its banks.
The damage caused by the flooding is estimated to cost between £250,000 and £500,000.
Structural engineers will take weeks to decide what needs to be done, Mr Coleman added.