Kruger National Park elephant attack: Sarah Brooks discharged from hospital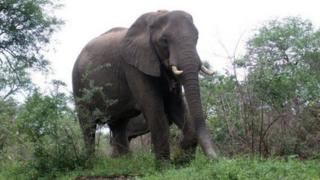 A British teacher injured when an elephant attacked the car she was in has been discharged from hospital.
Sarah Brooks was on a safari in the Kruger National Park, South Africa, when the elephant became aggressive.
The park's manager said one of the elephant's tusks stabbed her thigh after penetrating the car in the incident on 30 December.
Miss Brooks lives in Lincolnshire and teaches at Sir John Gleed School in Spalding.
She was on safari with a man, believed to be her partner, who suffered less serious injuries.
William Mabasa, general manager at Kruger National Park, said the couple had been driving behind the elephant when it turned around, pushed the car several metres from the road and then "trampled" it.
"Of course they were totally frightened but also thankful that they were alive," said Mr Mabasa.
"The car is a wreck, if I may put it that way.
"I mean it was completely flattened but fortunately the elephant concentrated on the back of the car, that's why we still have our guests alive now as I speak."
He said the elephant had to be killed because they could not understand its behaviour.
They then discovered that the male elephant had been "on musth", a periodic condition where testosterone levels rise and elephants become more aggressive.
He said the elephant had a wound which suggested it had been fighting.
"It could have engaged in a fight with other bulls where it was eventually expelled, and when an elephant is in that state it will be very aggressive and I think that's the reason why we had a case like this one," he said.
He said there had been two other similar cases in the last four years.
Will Scott, head teacher of Sir John Gleed School, said: "We are all shocked by what has happened to Sarah and we wish her a full and speedy recovery."