Red Arrows pilot Sean Cunningham inquest: 'Problem with ejection seat'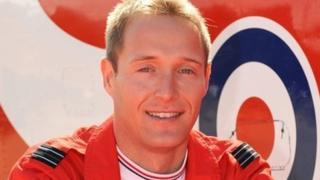 A Red Arrows pilot died after being thrown out of a plane by a type of ejection seat with a known problem, an inquest has heard.
Flt Lt Sean Cunningham was ejected up to 300ft into the air at RAF Scampton and fell rapidly when the main chute of his parachute did not deploy.
The colleague who checked his aircraft told the inquest he had not been aware of the problem with the ejection seat.
He said training had since changed because of the pilot's death.
The 35-year-old, who grew up in Coventry, died from multiple injuries at the airbase in Lincolnshire on 8 November 2011.
The problem with the ejection seat relates to its firing handle, which can look like it is in a safe position despite being capable of activating the seat, the inquest heard.
Senior Aircraftman (SAC) Joseph Tiley, who serviced and checked Flt Lt Cunningham's Hawk T1, told the inquest that the ejection seat had looked safe.
"I still believe it's not possible, or shouldn't be possible, for those other positions. To me, an ejection seat should have two settings: safe or in use," he said.
The inquest has heard that many RAF personnel were not aware of the problem with the seat at the time.
SAC Tiley said he had checked the safety pin was fitted in the ejection seat firing handle, which meant the seat was safe according to the training he had been given.
'Fewer engineers'
SAC Tiley had been working with the Red Arrows for just over a year when Fl Lt Cunningham died.
Sqn Ldr Martin Higgins told the inquest he had "observed" that the number of experienced engineers had decreased.
He noticed this after returning to the Red Arrows after four years away.
"I don't think I was concerned but I observed that, when I left in 2007, there were far more experienced personnel," he said.
Sqn Ldr Higgins also said it "took my breath away" that there were "not many days off" in the Red Arrows schedule for August.
In a previous interview, read out at the inquest, he said there were "very few opportunities for engineers to get their hands on the aeroplanes and all those things".
Giving evidence at the inquest he said: "The aeroplanes were not getting any younger and I assumed that the tempo would have naturally decreased because less resources were at hand.
"It surprised me that the board looked very similar to when I left in 2007. The tempo was the same but there were fewer engineers downstairs."
'Felt like eternity'
Other colleagues of Fl Lt Cunningham told the inquest that they rushed to help him after the incident but found no sign of life.
Cpl David Morris had to watch Flt Lt Cunningham descend to the ground for his own safety, in case he was injured by the falling seat.
"It felt like it took an eternity to drop," he said.
He said the seat fell rapidly but it felt like he was watching "almost in slow motion".
"It felt like that because I had to watch it from start to finish," said Cpl Morris.
He said he was between 20ft (6m) and 30ft (9m) from where the seat landed, with Flt Lt Cunningham still attached.
"[I] ran instantly over to the scene. It was myself and SAC Murray," he said.
Cpl Morris told the inquest he could see no sign of life and said: "I knew it was bad."
Senior Aircraftman (SAC) Lee Murray told the inquest: "I tried to find a pulse. I couldn't find one."
The inquest at Lincoln Cathedral Centre is expected to last until the end of January.