A15 school girls crash road near Bourne to have speed limit cut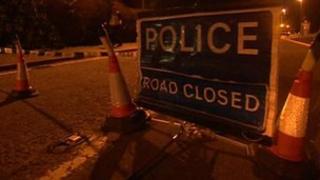 Part of a Lincolnshire road where two 11-year-old girls were seriously hurt when they were hit by minibus is to have its speed limit reduced.
Both girls, who were walking after getting off their school bus, were hit on A15 at Thurlby, near Bourne, on Tuesday.
The speed reduction from 60 to 40mph, which was approved in December, comes after six years of campaigning.
A police investigation into the cause of the accident is still under way.
On Wednesday, a second crash involving four cars occurred close to the spot where the two school girls were injured. No-one was seriously hurt.
There is no indication that speed was a cause in both crashes.
'Still no crossings'
Barry Dobson, who lead the campaign, said: "People are more likely to rush across when they see a gap in the road and maybe they can't judge the speed of the vehicle that's approaching them.
"We may now have the speed limit reduced - it's not in place but it's been agreed, but we still have not got the crossings.
"We desperately need this."
Mr Dobson, the chairman of Thurlby parish council, said two other villages near the A15 both have pedestrian crossings and "we want these crossings here".
Lincolnshire County Council said it could take up to 10 weeks to implement the speed reduction change because of the legal procedures.
It added that in the past the road was not eligible to have a crossing, but would now reconsider.
Brian Thompson, head of highways from the authority, said: "My thoughts are, of course, with both children following this tragic accident... I would like to send my heartfelt sympathy to their families and friends.
"The police investigation to understand the cause of the crash is still underway and it would be inappropriate to comment any further at this time."
The 11-year-old girls, who live locally and are pupils at the Bourne Academy, "sustained various fractures and head injuries", but have been described as critical but stable.