Bradley Wiggins sideburn tweet NHS man disciplined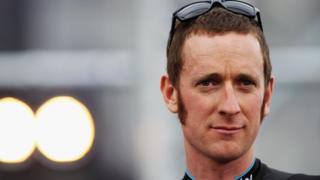 A hospital worker who boasted about plans to use body hair shaved from a patient to emulate Sir Bradley Wiggins' famous sideburns has been disciplined.
Paul Nam had also posted a photo of United Lincolnshire Hospitals Trust executives and called them "vandals".
Mr Nam, who was suspended and then resigned, later said he was ashamed.
The Health and Care Professions Council (HCPC) issued a caution which will remain on his employment record for three years.
The HCPC concluded his fitness to practice was impaired and his conduct had fallen short of the standards expected.
'Felt foolish'
Mr Nam wrote on the social networking site on 1 August 2012 that he was going to use the hair "from the first patient I shaved today and stick them on Wiggins-style".
It was the first of a series of tweets he posted under a pseudonym before a member of the operating department raised the alarm.
He told the hearing he was frustrated at being unable to communicate concerns about the trust to management.
The HCPC was told Nam had been employed by the trust from April 2007 but resigned his post ahead of an internal disciplinary hearing in February last year.
He told the tribunal: "I felt ashamed really from day one when I was confronted with it and suspended from the trust. I felt foolish and ashamed for what I have done."
However, he argued his fitness to practice was not impaired.
The HCPC is the industry regulator and has the power to remove people from its register of professionals who do not meet its standards.