Skegness Inn on the Park set to be demolished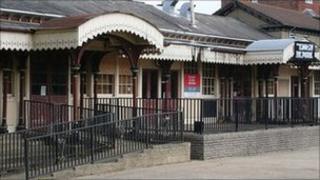 One of Skegness' best-known Victorian buildings will be demolished after "no viable" use was found for it.
East Lindsey District Council said it had exhausted all options for the Inn on the Park in Tower Gardens, which has been empty since 2007.
The council had asked local groups interested in saving the former pub, built in 1879, to come forward.
But campaigners have accused the council of "showing very little interest" in saving the building.
In a statement, the district council said: "Community groups, the county, district and town councils have all tried to identify viable uses for the building but repair and refurbishments costs are too high for these to be achievable.
"At the start of this process we made clear that if no viable proposals came forward, demolition would be the only remaining option."
The estimated cost of repairing the building is thought to be in the region of £900,000.
'Nothing left'
But Steve Kirk, chair of Skegness Civic Society, argued that demolition had long been the authority's preferred option and renovating it could actually cost less than knocking it down.
Although he conceded the building, which was given to the people of Skegness by the Earl of Scarborough, would need to generate an annual income of about £50,000 to make it sustainable.
Town councillor John Byford added: "It has had a chequered history but that's not to say it doesn't have a future."
He said: "I think it is worth saving because it's an important part of Skegness - we can't just keep taking everything away because we'll have nothing left."
Campaigners have started a Facebook group in a bid to try and get the district council to reconsider its decision.