NHS worker's 'patient hair for Wiggins sideburns' tweet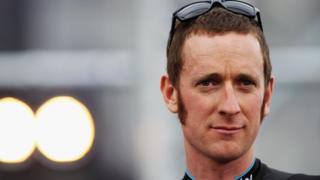 A hospital worker boasted on Twitter about plans to use body hair shaved from a patient on his face to emulate Sir Bradley Wiggins' famous sideburns, a disciplinary hearing has heard.
Paul Nam also posted a photo of United Lincolnshire Hospitals Trust executives and called them "vandals".
The Health and Care Professions Council was told Nam posted a series of "inappropriate" tweets.
Mr Nam, who was suspended and then resigned, later said he was ashamed.
'Foolish and ashamed'
Mr Nam wrote on the social networking site on 1 August 2012 that he was going to use the hair "from the first patient I shaved today and stick them on Wiggins-style".
It was the first of a series of tweets that he posted under a pseudonym before a member of the operating department raised the alarm.
He told the tribunal: "I felt ashamed really from day one when I was confronted with it and suspended from the trust, I felt foolish and ashamed for what I have done."
Mr Nam was suspended in September that year.
The hearing was told he breached confidentiality by posting a photograph of an ambulance and commenting "casualty busy as ever! I am now waiting in A&E for the victims of a light aircraft crash, will keep you posted".
He also tweeted a photograph of a theatre list showing surgeons' and anaesthetists' names and procedures with the comment "think yourself lucky your (sic) not doing my list".
'Blowing off steam'
Mr Nam, who worked in the gynaecology ward at Lincoln County Hospital, has admitted posting the tweets and has also admitted misconduct.
His lawyer, Lee Gledhill, has told the panel hearing the allegations it was up to them to decide whether his misconduct amounted to his fitness to practise being impaired.
Mr Gledhill said the tweets, although "wholly inappropriate", amounted to "banter" or "pub talk, unfortunately in public for others to read".
Elena Elia, for the HCPC, said Nam had accepted he had posted the tweets and apologised for them in a letter he sent once an internal investigation was under way.
He attributed his behaviour to "frustration for my own predicament" including his "limited career progression" at the trust.
In relation to the tweet about Tour De France-winning cyclist Wiggins, she said Nam had commented: "There was no actual patient, it was just a joke around Wiggins' sideburns."
He told the panel that using Twitter had been a means of "blowing off steam" for staff who felt unable to approach managers over concerns they had.
The HCPC was told Mr Nam, who began working for the trust in April 2007, resigned from his post ahead of a disciplinary hearing in February last year.
The hearing, which took place in his absence, found that had he not resigned, he would have been dismissed, Ms Elia told the panel.
The latest hearing was adjourned until Tuesday when the panel is expected to give a ruling.