'Relief' as Boston's repaired flood defences withstand high tide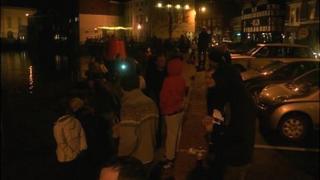 Repaired flood defences in a Lincolnshire town have withstood a high tide and prevented potential flooding.
The flood defences were damaged when Boston was hit by a tidal surge in December.
The Environment Agency issued two flood warnings for Saturday because of the risk that a predicted high tide could damage the temporary repairs.
But the agency said defences remain intact, while the fire service only had one minor flood-related call.
'Further relief'
Ben Thornely from the Environment Agency said: "We had staff checking the temporary and permanent repairs during the high tide period and we are confident these have not been affected by the tide.
"We hope that now the defences have experienced those high tide levels without further effect, that will provide further relief to residents."
The Environment Agency now aims to permanently repair defences.
It has removed the flood warnings for Boston, but said the rain that is predicted over the next week could cause problems elsewhere in Lincolnshire.
Mr Thornely said: "As the ground is so wet the rivers will respond incredibly quickly to any rain that does fall, so we may need to issue some flood alerts and flood warnings covering the river systems over the coming days."