Boston flooding: Volunteers put on Christmas party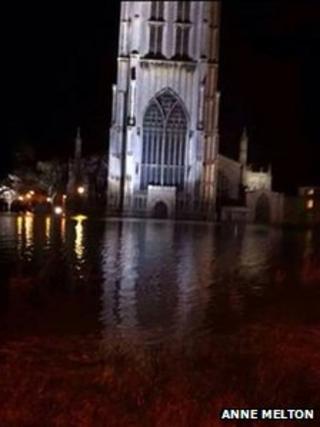 A Christmas party has been held for children who were affected by flooding in Boston, Lincolnshire.
Earlier this month, about 300 homes were flooded when the River Haven burst its banks.
The Environment Agency described the tidal surge, which affected the east coast, as "the most serious" for more than 60 years.
Community group Get Boston Back on its Feet, which organised the party, said about 600 presents had been donated.
"Some of these children have lost all their presents," said organiser Mark Douglass.
"People who lived on ground-floor accommodation, for them, everything's gone.
"It's about giving them a bit of hope to make Christmas special."
The party had traditional games and a disco, face painting, owls, an entertainer and finished with a visit from Santa.
Get Boston Back on its Feet is aiming to raise £100,000 in the long term and said it had a number of events planned for next year.