Swan islands built during Lincoln footbridge project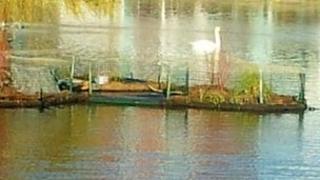 Floating islands for swans have been built on a Lincoln lake where work is due to start on a railway project.
A jetty at the edge of Brayford Pool, where the birds currently live, will be demolished when a new footbridge is built at Brayford Wharf East.
The islands in the middle of the lake will become the new habitat for the large number of swans.
Plans were approved in March for a new footbridge at one of the busiest level crossings in Lincoln.
Network Rail, which included the relocation of the swan jetty in its Brayford Wharf proposals, said the move was discussed with the Brayford Trust and the RSPB.
Galen Fulford, who helped build the islands, said it would take the swans a while to get used to the island because they usually lived on muddy banks.
"But this does provide a very nice hard decking and importantly it's somewhere safe. Their current location is really not ideal," he added.
Network Rail highlighted the railway line at Lincoln High Street as one of the "worst level crossing for instances of misuse".