Boston flooding: Defences being temporarily repaired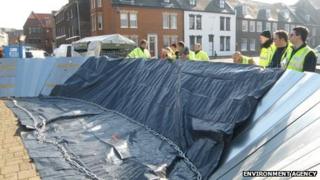 Flood defences in a Lincolnshire town damaged by a tidal surge two weeks ago are being temporarily repaired.
A section of the River Witham, at Whitehorse Lane in Boston, was highlighted as an urgent priority for repair by the Environment Agency.
The agency said it was putting up a temporary flood defence to the back of the existing wall by Sunday, keeping the height at nearly 6m (19ft).
Four other areas, which were also highlighted, have been repaired.
'Short term solution'
Mark Robinson, coastal manager for the Environment Agency, said: "Our defences have generally performed very well.
"However, the severe weather conditions have caused damage to some of our flood defences in Lincolnshire.
"We have assessed all of our flood defences and prioritised the ones where urgent repairs are required to reduce flood risk.
"One such defence is the flood wall at Whitehorse Lane."
Mr Robinson added that the tidal surge was a "once in 200-year event".
The Environment Agency said Boston was one of the worst affected areas, with 300 homes flooded.
Other work on the temporary flood wall will include water-proofing along its mid-section to reduce potential seepage.
One-tonne sandbags have also been placed along its southern end to provide extra stability to the wall.
The agency added that it was still assessing damage done by the floods in Boston and the surrounding areas.