Neil Rhodes gets chief constable of Lincolnshire Police job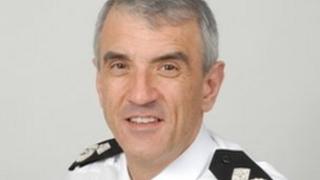 The temporary chief constable of Lincolnshire has been given the job on a permanent basis, months after being suspended.
Neil Rhodes was the only candidate for the £141,000-a-year post.
It came after he was suspended by the force's crime commissioner Alan Hardwick over concerns about his involvement in an employment dispute.
Announcing the appointment the Police and Crime Panel said he had shown his "professional competence" for the job.
Mr Rhodes was reinstated in March after a judicial review and a report by Sir Peter Fahy, chief constable at Greater Manchester Police, cleared him of any wrongdoing.
In a letter Norman Norris, chairman of the Lincolnshire Police and Crime Panel said members unanimously supported Mr Hardwick's decision to appoint Mr Rhodes permanently.
He wrote that Mr Rhodes had "demonstrated his professional competence and personal independence to be successful in this position" and said his "extensive knowledge and experience" would "ensure the continuity for Lincolnshire Police at a time of significant change and challenge".