Boston 'could have been saved' by flood barrier scheme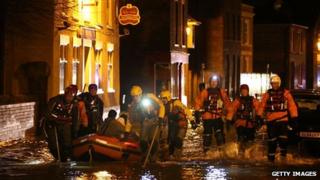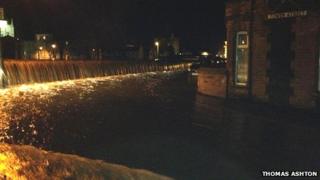 Residents in a Lincolnshire town flooded by last week's tidal surge have been told they would have been protected by a new flood barrier.
Homes and businesses in Boston were damaged when the River Haven breached the existing defences.
A new £100m barrier has been planned for several years but councillors say work on it may not start until 2016.
The Environment Agency said the barrier would have prevented overtopping and better protected communities.
Many residents were returning to their homes on Monday, after being evacuated and given emergency accommodation.
'Working hard'
The new flood barrier, first proposed in 2010, would be built in the river close to the Black Sluice pumping station and aims to protect up to 11,000 properties.
Peter Bedford from Boston Borough Council said he had been assured at the weekend by Environment Secretary Owen Paterson the barrier would be funded and built.
But he said it could be another five years before it was fully operational.
"What we had in Boston on Thursday was a one in 200-year event," said Mark Robinson, coastal manager for the Environment Agency.
"That barrier when constructed will give Boston a protection of one in 300 years, so yes that barrier would have prevented overtopping.
"If we could build it overnight we would, but there are lots of orders and legislation that we have to go through to get this done.
"My heart goes out to the people that were affected last week, but we are working very hard behind the scenes to move this along as quickly as possible."
MP for Boston Mark Simmonds said he was keen to seen the barrier built quickly.
He added: "Boston does have challenges and if there is a silver lining to come out of this cloud that is we finally get a decision on the Boston barrier.
"One of the key aspects for me is to see the barrier finished and therefore there will not be any significant flooding of the town of Boston in the future."