Lincolnshire hospitals: Trust admits it will miss finance targets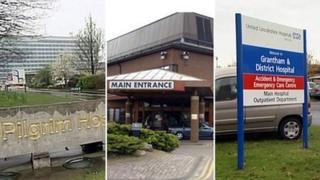 A health trust which is facing mounting debts has already admitted it will not meet its financial targets for April.
The United Lincolnshire Hospitals Trust was heavily criticised by the Keogh Review and placed in special measures.
It said it slipped an extra £2.7m into the red in October and will fail to meet its targeted deficit of £17m by the end of the financial year.
Chief executive Jane Lewington said the NHS Trust Development Authority (TDA) had been warned of the situation.
The Lincolnshire Sustainable Services Review (LSSR) was launched last month, revealing ambitious plans to curb the growing deficit which, it said, would reach £105m in five years if nothing is done.
The trust agreed a deficit target of £17m with the TDA by the end of the financial year but it has already passed the £16m mark.
Ms Lewington said: "We haven't made the progress with the cost improvement that we would have expected to see this year.
"Our ambition now is to get as close as we can back to that £17m deficit but we won't be at £17m."
She added the trust had already started planning how it will save money in the 2014-15 financial year.
But it continues to struggle with staffing costs after it was criticised for poor nursing levels and has been forced to employ more agency cover.
"I believe we are talking about a five year financial recovery plan for this organisation and we know that we are not clinically sustainable, the way we deliver services, we're not financially sustainable either," Ms Lewington added.