Council pays out £2,000 weekly on B&Bs for Lincoln's homeless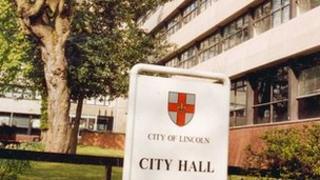 The City of Lincoln is spending more than £2,000 a week on B&B accommodation for homeless people.
The council has spent £185,000 in the past 18 months providing emergency rooms for families, pregnant women and single people.
Ric Metcalfe, head of the Labour-led authority, called it a "shocking waste of money".
He said the problem was made worse by changes to the benefit system and a lack of affordable housing.
He also stressed it was the council's legal obligation to provide accommodation for homeless people.
'Urban area'
He added the authority was doing all within its power to tackle the issue.
"We are trying to deal with this by preventing homelessness in the first place and building more council houses, he said.
Mr Metcalfe conceded Lincoln fared worse than other district councils but said this was due to it being the main "urban area".
In other parts of Lincolnshire, South Holland District Council said it spent £1,400 since April on B&B accommodation.
South Kesteven District Council spent £15,000 between April and September and North Kesteven District Council said it had spent about £3,000 during 2012/13.
West Lindsey has its own temporary accommodation.