Lincoln's Spring Lodge sees 45% rise in historical offences cases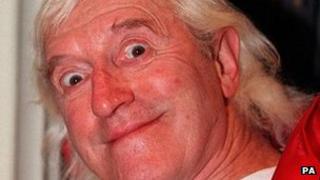 A rape and sexual abuse support centre has seen a large rise in the number of people reporting historical offences.
Spring Lodge, in Lincoln, says it believes the publicity from the Jimmy Savile investigation has given victims more confidence to report attacks.
Sexual violence advisor Carolyn Wright said: "People know they will be taken seriously."
Last year the centre received 280 calls of historical abuse, an increase of about 45% on the previous year.
Operation Yewtree, and related investigations, has proved to victims that the police deal with reports of sexual abuse sensitively and seriously, the centre said.
'Successful convictions'
Ms Wright, an independent advisor, said 75% of her cases are historical offences.
"With the publicity of the Jimmy Savile case and other celebrities, that has really helped because of how the police have handled it," she said.
"They have been very sensitive and very encouraging to historical victims."
Spring Lodge was established two years ago as a crisis centre for the whole of Lincolnshire because of its rural nature.
Centre manager Amanda Farquhar said over the past year about 10 victims a month went to the centre within a week of an attack.
Nationally, the number of recorded sex crimes has risen by 9% since details of Savile's sexual abuse came to light, although in Lincolnshire it has dropped by 4%.