Lurcher has surgery after North Hykeham hare courser attack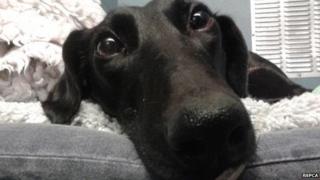 A dog has undergone surgery after being found collapsed and close to death following reports of hare coursing.
The female lurcher, found on a river bank in North Hykeham, near Lincoln, on Sunday, had suffered a broken neck.
It is thought she was kicked by hare coursers to disable her to hide their tracks.
An RSPCA appeal has so far raised £4,000 to fund surgery for the one-year-old dog.
She is being treated by a vet in Cambridge and has had a second operation to fix pins in her neck.
The incident coincided with reports of three men acting suspiciously in the area and one throwing a bag into the river.
The RSPCA said it believed the suspected hare coursers had been disturbed and kicked the dog to put her out of action.
She was also covered in scratches, consistent with dogs being used for hare coursing - with bodies of dead rabbits and hares found nearby, the charity said.
Charlotte Childs of RSPCA Lincoln said: "When we found her she was suffering from exhaustion and had also suffered a very heavy impact to her spine.
"It is unthinkable for someone to have caused those injuries."
The treatment is expected to cost more than £5,500 - the charity is posting her progress on its Facebook page.
Lincolnshire Police said offences started to rise in the autumn after crops had been harvested and continued until spring.
In the latter part of 2012, the force received more than 500 reports of hare coursing in the county.