Geocache hunter trampled by cows in North Scarle field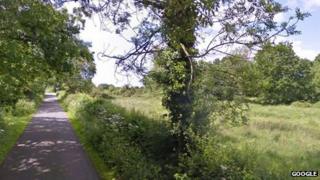 A woman suffered a broken collarbone, arms and ribs when she was trampled by cows whilst taking part in a geocaching treasure hunt.
Sarah Leonard, 59, from Sheffield, was injured in a field in North Scarle, near Lincoln, on Saturday.
Her brother Andrew Leonard said he thought she had her dog with her which "must have spooked the cows".
Ms Leonard has undergone several operations and remains in Lincoln County Hospital.
Mr Leonard said it was a "godsend she had her mobile phone and managed to dial 999, despite her injuries and having her glasses knocked off".
Geocaching involves using a satellite GPS tracking receiver to find containers, called geocaches or caches, and logging details on a website.