Lincolnshire hospitals new international nurses prepare for ward duties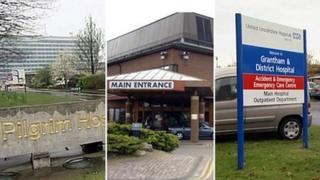 Nurses from Greece, Portugal and Spain are preparing to start work in Lincolnshire hospitals after the trust went abroad to recruit.
The United Lincolnshire Hospital Trust was placed into special measures earlier this year and criticised for its poor staffing levels.
In August the trust said a low response to vacancies had led them to widen the search across Europe.
It said the 70 nurses were part of a £7m investment in staff over two years.
The new nurses, many of who are recently qualified, are to be given free accommodation on hospital sites for one month and help with creating bank accounts.
'Longer approach'
One of the recruits, Manuela from Spain, said: "I decided to come to Lincolnshire because I really didn't have many opportunities in Spain to work as a nurse and this post gave me that opportunity to develop myself further in my career."
From April, hospitals in England are to publish monthly details of nursing staff numbers as part of the government's response to the public inquiry into the Stafford Hospital scandal.
Tim Baggs from the Royal College of Nursing said it was vital to ensure that there were "enough staff working on hospital wards and also in the communities in Lincolnshire".
He said: "If one looks at the report into care failings at Staffordshire and elsewhere, poor staffing levels have especially been impacted in those reports as being part of the problem.
"So the trusts are addressing those issues but the problem is they are all trying to recruit nursing posts and that is creating the demand for jobs that is forcing them to go overseas.
"It would be more beneficial if we took a longer approach to workforce planning, so that we could survive the peaks and troughs in supply and demand."