Couple praised for helping Brothertoft ditch crash victim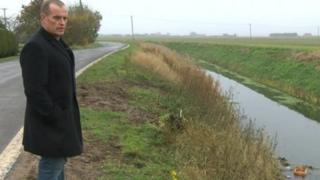 Police have praised a couple for helping a man trapped in his crashed car - just an hour after they returned from a service for accident victims.
Andy Stubbs was alerted by his wife, who heard the car going into a waterway in Brothertoft, Lincolnshire.
They had been at the remembrance service on Sunday because one of their relatives was killed in a car crash.
Mr Stubbs got into the water and kept the 20-year-old driver calm until emergency services reached the scene.
Lincolnshire Police said they had the "utmost praise" for the couple's "quick thinking and bravery".
Mr Stubbs said: "We went outside and heard somebody shouting and went to have a look. [We saw] A car had gone in the drain opposite our driveway.
"We went down to the lad and he was caught in the car. The car was upturned and he was strapped in by his seatbelt.
"Basically we just helped him until emergency services arrived."
'Very bad road'
The driver who Mr Stubbs helped was taken to hospital and has now been released.
His overturned car had been in the water at North Forty Foot Bank for about 40 minutes, after it crashed at about 17:30 GMT.
Mr Stubbs would like resurfacing of the "very bumpy" road or warning signs about a bend, to prevent future accidents.
"Unfortunately it happens frequently," he said.
"Since we've been here, which is approximately 25 years, I would think we've had nine or ten cars in the actual drain, as well as some other accidents as well. It's a very bad stretch of road."
A spokesperson for Lincolnshire Police said: "The man was taken to Boston Pilgrim Hospital after getting very cold but otherwise he did not have any serious injures."
The remembrance service was at a church in Boston and was organised in association with Lincolnshire Road Safety Partnership.
It was for family and friends of people who have died in road accidents.