Lincolnshire County Council says libraries could be saved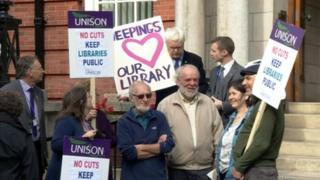 All of Lincolnshire's libraries under threat of closure are likely to be saved, according to the county council.
More than 20,000 people have signed petitions opposing the cuts which put 30 libraries at risk.
But Lincolnshire County Council's leader Martin Hill said he was confident 24 libraries would be handed over to volunteers or third parties.
He added half of the 280 mobile library stops, also under threat, would probably remain.
"We have had strong community interest so we think the libraries will be able to carry on with support from the community," said Mr Hill.
'Arm twisted'
He said a deadline for expression of interest in the remaining six libraries would be extended.
"If it can be done for 24, we expect it can be done for the others," said Mr Hill.
However, campaigner Steve Palmer believes the volunteers who came forward had little choice.
"They've had their arms twisted behind their backs," he said.
"They were told if you do not come forward and offer to run your library you will get a second rate mobile service."
The consultation over the proposed closures ended in September, with the county council stating the library service needed to change to remain affordable.
The authority will continue to provide stock and funding, for services taken on by third parties, of £5,000-a-year.
It is estimated that the changes will save the public purse about £2m.
A final decision on the future of the library service as a whole, will be made next month.