Boston's Christmas market saved as traders find cash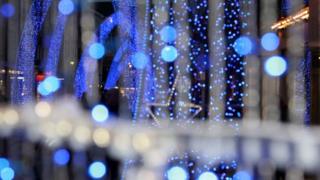 A Lincolnshire town's Christmas market and lights switch-on have been saved by local businesses after the group that organised the events was scrapped.
Boston's Business Improvement District (Bid), which was funded by local shops, paid for the events in 2012.
However, traders voted to disband it, leaving this year's events in doubt.
But a new Boston Town Christmas Fund has raised enough money for some form of celebration. including two Emmerdale stars switching on the lights.
'Short on cash'
Former Bid chairman Alan Ellis said: "What we've actually done is formed a new committee and all the events have been drawn up under a new name as the Boston Town Christmas Fund."
"We're still short on cash, but we've enough money to pay the Emmerdale stars now and do some of the things that are already in place.
"We've got £5,800 at the moment out of £9,800, so we're hoping the council can loan us the rest of the money until we've got all the money from the stalls, fairground and all the other events that we're putting on."
There would have been a Christmas lights event on 29 November, Mr Ellis said last week, but "back to whatever Boston Borough Council can afford on its own".
Now it seems that Chris Chittell, who plays Eric Pollard in Emmerdale, and Lesley Dunlop (Brenda Walker) will be attending.
The Christmas market had been in doubt because Boston Borough Council did not have the funds to continue doing it without the money from the local businesses.
Council leader Peter Bedford had expressed regret that only 48% of businesses had voted in a ballot for Bid to continue.
"The Christmas market is entirely organised by Bid and costs met from the levy. Any decision on whether the market is held or not is Bid's," he said.
Mr Ellis added that he was hopeful funding would be in place for the Christmas market and other events in 2014.