Lincolnshire UKIP leader 'sorry' for poppy wreath logo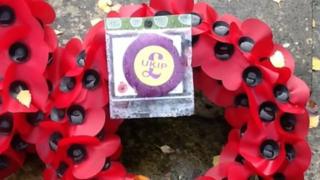 The leader of UKIP in Lincolnshire has apologised after a wreath with the party's logo was placed at the war memorial in Spalding.
UKIP councillor Colin Mair apologised for any offence caused but said he did not know who left the wreath.
Spalding's Conservative district councillor Roger Gambba-Jones said he was "horrified" by what had happened.
In Devon, a UKIP party local chairman defended the use of a UKIP logo at a war memorial in Plymouth.
'Clearly inappropriate'
Mr Mair said: "I have no idea who put it there. But it is possible to buy a wreath with the UKIP label in it from the British Legion shop.
"This is not a time for politics. It is not the time and place to do that."
Mr Mair said veterans were honoured "because of what they did, not for what political representation they were".
"All I can do is apologise for any offence that has been caused... and express forcibly within UKIP how unhappy people are because of what was done," he said.
Mr Gambba-Jones, a South Holland district councillor, said: "I hope it is not a cynical ploy to promote themselves in a completely inappropriate environment and I hope they never make a similar mistake in the future.
"There are things where politics is appropriate and things where it is clearly inappropriate.
"The last thing you do is go and celebrate your party when we are all supposed to be one nation celebrating our dead."
After several wreaths with UKIP rosettes were laid in Plymouth, UKIP's chairman for the South West, David Salmon, said: "The logo may be a bit over the top, so next year I'll consider a smaller one.
"But I want to retain the logo because I'm proud of what we stand for."
The Royal British Legion says its poppy factory produces logos for "all the mainstream political parties".