Louth conservation area yellow lines made 'more subtle'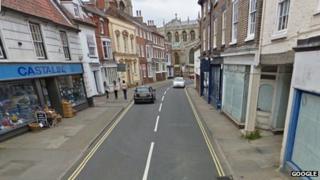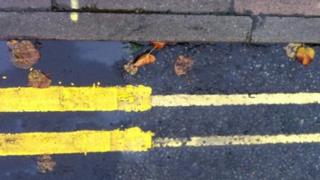 Double yellow lines painted in a Lincolnshire street caused a stir because they were too wide and bright.
The lines along Upgate in Louth should have been narrow and a light primrose colour, because it is in a conservation area in the town.
A spokesman for Lincolnshire County Council said workers realised the mistake after residents complained.
He said they would now be changed to more subtle markings to help "protect the town's unique character".
It comes after a bakery in the town was ordered to repaint its lime green shop-front because it was "not in keeping" with the area.
'Totally unnecessary'
One resident told the BBC she did not understand why the thicker line needed changing.
"I can't see anything wrong with them," she said.
"I thought they were more prominent but it is totally unnecessary repainting them.
"They do what they are meant to do, they stop people parking where they shouldn't."
Dean Myhill, area highways manager at Lincolnshire County Council, apologised for the error and said the cost of repainting the thinner lines had not yet been calculated.
He added: "In a conservation area such as Upgate in Louth, we use a more subtle colour for our yellow lines and paint them about half as wide.
"This is to make sure our road markings help to protect the town's unique character.
"In this case, we have made a mistake and painted our standard yellow lines. We apologise for this error and will look to paint the correct lines."